Latest in
---
Film previously won Jury Prize at Cannes Film Festival
---
Film had its world premiere at Cannes Film Festival
---
Mohamed Ben Attia's film "Weldi" (Dear Son) screened on Sunday at the Cannes Film Festival at the Théâtre Croisette within the Directors' Fortnight programme, which will conclude the events of the festival. Weldi follows Riadh, who is about to retire from his work as a forklift operator at the port of Tunis. The life he …
---
82 female stars at Cannes Film Festival stage red carpet protest against gender inequality
---
During the 2018 edition of the Cannes Film Festival, four meetings with artists will take place at the Buñuel Theatre. The four masterclasses will held by directors and actors invited to share their work and passion about cinema during a rendezvous for the festival goers, according to the festival, adding that the four film professionals …
---
---
Opening the sidebar program of the Cannes Film Festival, "Un Certain Regard", Valeska Grisebach's film "Western" investigates ideas of ownership, xenophobia, and masculinity, in a way that reflects some modern tensions between eastern and western Europe. After disappearing for ten years, director Valeska Grisebach returned in the 2017 edition of the Canne Film Festival, after …
---
"You Were Never Really Here" premiered at the 2017 Cannes Film Festival on the last day of the main competition. Critics and film professionals were shocked, or at least did not expect such roughness from Lynne Ramsay, who unlike many other directors, has tensed up the performance and the edge of her films, following a …
---
Completing the series of awards it received from its first screening at this year's prestigious Cannes Film Festival, Eshtebak (Clash) received four awards at the Carthage Film Festival in its 27th round. By winning the Bronze Tanit (the second prize in the Official Feature Film Competition), Best Photography, Best Editing, in addition to the African …
---
Presenting intellectual and creative challenges, the movie tries to prove that all sides are simply human
---
The acclaimed director, who won the 1997 Palme d'Or for "Taste of Cherry," passed away from cancer in France. He had left Iran last week for medical treatment.
---
Taraneh Alidoosti has found herself in the center of a social media controversy after cameras caught a women's rights symbol tattooed on her arm. Feminism is seen negatively in the Islamic republic.
---
---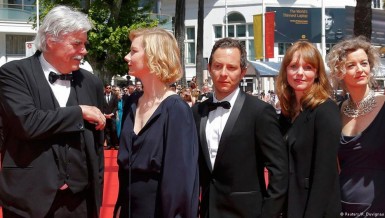 The German drama "Toni Erdmann" is a hot contender for the Golden Palm award at the 2016 Cannes film festival. Critics favor director Ade's film, but in the end, it's up to the jury to decide on Sunday.
---
Discover the highlights of the Cannes Film Festival, held this year from May 11-22. As Germany celebrates a comeback in the race for the Palme d'Or, here are 12 hot contenders in the competition.
---
End of Section