Latest in
---
'I was repeatedly told by teachers and acquaintances that painting is forbidden, but I never agreed with that. I don't hurt anyone when I paint,' says artist
---
From ketchup to vegetables, Hany creates mouth-watering art pieces
---
André Götzmann films bird's eye view videos of Germany every day for our #DailyDrone series. DW spoke to the cameraman and drone pilot who told us why seeing the country from above is so exciting.
---
"I feel like I connect better with myself through art, I never feel as focused and on point as I am when I am painting," says Ashraf
---
"They are little pieces of art that break my heart to part with, but it makes me happy knowing that the person wearing them will smile every time they look down at their feet," says designer
---
In an exclusive interview with Daily News Egypt, Arafa revealed some secrets about his beginning, the messages he aims to convey through his artistic works and the inspiration sources of his outstanding drawings.
---
---
By relating to sex, the exhibition aims to raise awareness, encourage people to speak out and think about the topic open-mindedly
---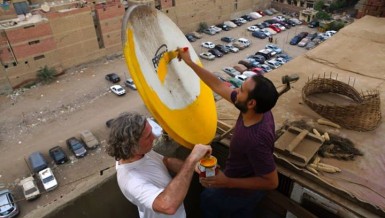 American writer and artist transforms "depressing" rusty dishes into brightly-coloured ones
---
150 artists of 30 nationalities "leave their mark" on building walls of Erriadh village
---
Egyptian artist Taha Al-Korany painted 20 oil on wood pieces, reflecting impressions about "the most significant" points of revolution
---
Hend El Falafly's Silence of Tunes is on display at Safar Khan Gallery in Zamalek
---
The paintings exhibited are separated in two series,I Want To Be Free and The Path
---
---
The continuing struggle for rights through street art
---
End of Section