Latest in
---
Moussa twice urged people to vote for Al-Sisi; now challenging him at polls
---
Al-Wafd praised for not presenting presidential candidate
---
The former presidential candidate criticised the current regime during a press conference
---
FBI Director James Comey has appeared before Congress to answer questions on the agency's decision to not prosecute Hillary Clinton. The House Speaker was among the critics of the outcome, which has outraged Republicans.
---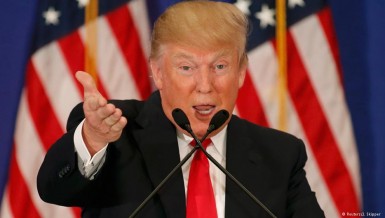 With Ted Cruz bowing out after a blistering defeat in Indiana, Donald Trump will be the Republican Party's presidential candidate. That's hard to swallow, but it's good for both democracy in the US and the GOP.
---
Presidential candidate vows Egyptian intervention if any Arab country is "threatened"
---
---
"My project seeks a successful state with all its sectors, instead of only depending on the military institution," says the presidential candidate
---
Egypt has made various offers to the UAE, Saudi Arabia and Kuwait regarding a number of projects, including the establishment of laboratories for refinement areas in Ain Sokhna, the North Coast, Alexandria and Upper Egypt.
---
AFP – Algeria's Islamists – once the country's leading political force – are boycotting this month's presidential election, chastened by recent poor performances at the polls and setbacks for ideological soulmates across North Africa. The three main moderate Islamist parties have forged an unlikely alliance with the fiercely secularist Rally for Culture and Democracy to …
---
Among the defendants are siblings Mona Seif and Alaa Abdel Fattah
---
Salafi cleric accused interior ministry of guarding nobody but themselves
---
The four largest Nasserist parties to announce merger at Gamal Abdel Nasser's mausoleum on 42nd anniversary of his death
---
---
The reported merger of 25 liberal parties into one party under Amr Moussa's leadership not complete
---
The former presidential candidate is accused of profiteering, forging official documents, and seizing public funds
---
End of Section